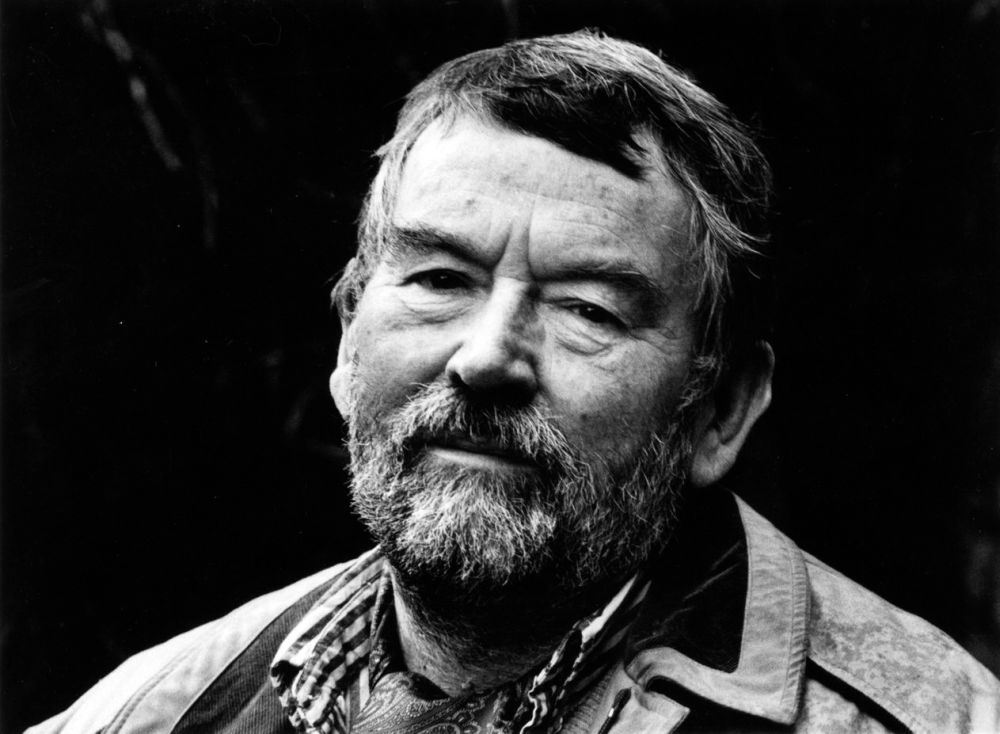 Photo of John Fowles by Carolyn Djanogly
John Fowles was born in Leigh-on-Sea, Essex, on March 31,1926 He supported himself through teaching tasks at the University of Poitiers, at Spetsai, Greece (where he satisfied his wife-to-be, Elizabeth Whitton) and at different schools in and around London until his very first released book, The Collector, appeared in 1963.
The view of Lyme Bay from Fowles's own Belmont Home is described in the opening chapters of his most well-known book, The French Lieutenant's Female(1969), which won the Silver Pen Award from PEN International and the W. H. Smith Literary Award. The apprenticeship was over. This pseudo-historical novel exposed a new openness to experimentation with narrative voices and an intellectual elegance that has actually marked all his later fiction: The Ebony Tower(1974), Daniel Martin(1977), Mantissa(1982), and A Maggot(1985).
However Fowles the author, true to the humanistic custom, has actually insisted upon playing other roles. He has translated and commented on numerous classic French works, including Perrault's Cinderella and Molière's play, Don Juan
The interview was done, at Fowles's request, through written exchanges beginning in June, 1987, and concluding in April,1989 His desire to continue "by post" had its origin in a specific dissatisfaction with the several taped interviews he had actually done and perhaps with a few of the scholastic criticism of his fiction. He would set the record directly. A taped interview was the celebration for our first encounter at his house in November1985 At that time he provided the impression of fantastic strength and self-confidence, gentle way, and enormous capability for obscurity and complexity. When that interview was published (in the Michigan Quarterly Review), he composed to state that in the future he wanted time to write out more thoughtful reactions. On reaching mid-point in our written exchanges, John Fowles suffered a dangerous stroke. He composed: "Writing, what it is to be a writer, fills one with horror in their smallness, pettiness. All one's former vanity is folly." He had the concerns before him, he had actually assured to respond, and partial recovery allowed him to continue. The effect of that stroke on his spirit is described in the interview, however it is most tellingly realized in his concluding quotation of the refrain from Scottish poet William Dunbar's sixteenth-century "Lament for the Makers"– Timor mortis conturbat me
INTERVIEWER
Is it accurate to state that you did not begin to develop an identity as an author till you went to Oxford in 1947 and participated in a rather stylish revolt against the limitations of a suburban middle-class background?
JOHN FOWLES
Yes, totally accurate, though I believe the notion of signing up with "a rather trendy revolt" is a little bit wrong. You should remember my generation– I was born in 1926– had actually spent our late teenage years and early twenties in wartime, followed by a duration of nationwide austerity that stayed mentally like war. Oxford in the late 1940 s was, I think, to everyone lucky sufficient to be there, a sort of fantastic escape from all that– a delighted dream, an alternative world … in a sense a book we had actually become aware of, however never really check out till then. Where the person was paramount, not the nation. I came out of the rigorous "order" and discipline of the British Marine Corps into the ancient indulgence of Oxford; it was a heady experience for all of us, an intoxication, barely a matter of revolt.
I must include that in my teens I had a somewhat unusual experience for a youth, having ended up being head kid of my large public school (in Britain actually a personal school, of course). Head young boys were in those days accountable for all small discipline in the school outside of class, able to offer penalties and walking stick lawbreakers; we were, so to speak, appointed heads of Gestapo, with a body of lesser prefects to assist us spy on and patrol, cow and bully, the several hundred other boys.
Apart from anything else, head kids were largely excused from any other sort of work, which had fatal results on my own correct "academic" career. We were also expected to stand as designs for the whole system (in my specific school, producing eventual administrators of the already passing away British Empire, stiff with every expected middle-class virtue), and that was a function I pertained to realize I abhored and did not want. This took place in the 2 years or two of service in the Royal Militaries in between leaving school and going to Oxford. I showed up because latter location, simply put, in a state of complete rejection of whatever I had been earlier taught to believe in. Oxford handsomely verified the revolt, instead of started it.
JOB INTERVIEWER
What caused you to read in French during your 4 years at Oxford?
FOWLES
This was mostly pure possibility. I was at the time a little bit split in between signing up with the Militaries completely or taking the location I had been promised at Oxford.
My very first year at Oxford I "check out" both French and German. I liked my French tutors, did not like the German ones, and so dropped German … something I have been sorry for somewhat ever since. In spite of grim experiences in the trenches and later on in the occupation army in Germany itself throughout the First World War, my own dad was much more fond of German literature than French. That decision of mine did not please him. In a sense I was going against household (or Victorian) tradition in turning my back on Germany and German. But I am sure now, forty years later, that it was essentially the ideal decision. I think it is a lot more beneficial for the future author– for any seeker after culture– to be familiar with the Latin side of Europe well, instead of the Teutonic and Nordic one. The Germans are too like the British, and the French so richly various. We require what we haven't got by nature.
I had student "love affairs" with various French writers, although some took years to work. I quite liked Montaigne, although I haven't read him for several years now. He seems to me one of the sanest and intellectually most appealing Europeans who has ever lived and he set me on the course of humanism that I have actually followed ever since. We had at that time to invest a lot of time on Old French, and used to rather groan about it linguistically; however there seeped into me ultimately an affection for the early storytelling– for Marie de France, Chrétien de Troyes and the rest, the dads and moms of the European book. I likewise liked the French funny, particularly Molière and Marivaux– not Racine and Corneille, I'm afraid, and I liked the late-nineteenth-century poets– Baudelaire, Mallarmé, Laforgue. I also particularly fell for that sophisticated, accurate custom of the pensée, the thoroughly framed apothegm and wisdom, something we've never ever truly mastered in English– Pascal, La Rochefoucauld, Chamfort, all the rest. That affection destroyed a book I wrote later, The Aristos I discovered my lesson there. It is not just red wines that will not take a trip in between our 2 countries.
By and large, I have never had much interest for the classical side of the French tradition, whose apotheosis is, I suppose, Racine. Even at Oxford I seemed to get endlessly lost in the byways, things I ought to not– a minimum of for examination functions– have been reading. I have never ever been especially interested in French modern literature. Though I like the language, I have never ever found out to speak it well, though I would declare I am quite a great reader of it. That was, I believe, the goal of the old Oxford at that time: to teach one to comprehend France and the French, not to speak the language presently and fluently. That for me remains a vital difference in between correct university "French"– or any other foreign culture and language– and its language-school variation. They are, or ought to be, 2 various things. One is for human beings, the other for company individuals. I don't think modern-day educationists have actually ever comprehended that, a minimum of in this country.
RECRUITER
But weren't the existentialist writers– Sartre, Camus, de Beauvoir– essential in promoting your quote for flexibility from the rigid structures of your conservative background?
FOWLES
Those authors definitely came to us after the war as unusual and exciting. I think the "impact" was partially from the endless quantity of talk in Oxford about "the existentialists," "credibility," being engagé and the rest, all the implicit condemnations of the bourgeois view of life, that affected me.
Trainees of my work typically make rather a lot of existentialism, a bargain more than I ever felt is true of myself. However that is a familiar feeling, for me, anyhow. You are presented as something you never ever truly were. Of course it's flattering to be extensively studied; however I'm not altogether delighted about the intensive pursuit of living writers that seems so popular now with literary trainees and teachers. I compose for other reasons than offering fodder for the literary professors.
RECRUITER
Did you check out Jung? Could his influence be related to the theme of psychological development so apparent in the early books?
FOWLES
I did meddle him, from Oxford days and after. Not as a major student might, much more as a trifler, picking up the ideas I needed and that appealed to me rather as a spoilt kid might select out of a fortunate dip if he or she were offered totally free variety and option. For me Jung has constantly been the most rewarding psychologist, that is, a lot of fertile in his results on any subsequent fiction. I presume a straight expert, basically in Freud's footsteps, would suit me better clinically, if I ever needed such attention– which maybe I do … like every other author!
JOB INTERVIEWER
It appears an important book for the major trainee of your early fiction– The Magus and The Collector
FOWLES
Like so many Oxford trainees, I established very timid literary aspirations there. I still occasionally get the urge to compose poems, however generally sternly resist it.
RECRUITER
You have said that you wished to be known as a writer and not merely a novelist. You continue to make it tough for us to separate the fiction and the nonfiction in your work. Is this an outcome of the early humanistic idealism– being a "renaissance guy," a generalist, rather than an enthusiast in any single genre?
FOWLES
That is maybe why my taste in fiction is towards a fair degree of realism in style and my taste in nonfiction (say in what researchers and academics compose) is towards those who can exhibit qualities like tolerance of hypothesis, dislike of the rigid analysis, a general fluidity of mindset, and a standard compassion towards a topic … a touch of normal humankind, in a phrase.
Very essential for me also is the collection of "old" books I have gathered for many years. I am a poor bibliophile in the proper and typical sense. What I like about picking up old books is their massive variety and the peeks they can provide into previous and lost worlds and cultures. I do this quite indiscriminately, with whatever takes my fancy; the returns, in a literary sense, are boundless, however difficult to classify. An American trainee to whom I mentioned this asked if she may have a list of what I had actually read or collected over the years. I told her it was difficult. I keep no such list. This really various reading I have actually done over the years has ended up being a significant impact for all its maddening ambiguity for the trainees. Students nowadays appear to wish to "position" precisely, to locate precisely, whatever about an author's work: what he is, what has actually made him or her what they are, and so on. It seems to me that to imprison it is to deny something very necessary about composing. Rather the same thing has taken place in nature, or nature– the mania to put whatever in a precise species or subspecies, to find exactly how it works, all the rest. I am opposed to the scientization of nature, the reducing of it all to types, environmental circulations, biochemical mechanisms, and so on. I feel this extremely strongly about composing and authors too. The world desires us caged, in one location, behind bars; it is really crucial we stay totally free.