Put on your shoes and go for a walk as fast as you can, because this simple exercise helps you stay fit and lengthen your health.
Who would say that we have at our fingertips the secret of our physical form? An investigation by the University of Sydney ensures that fast walking extends life. Come on, that our body is designed to walk, so that's what we have to do at once if we want to keep fit.
Are not you a gym, or sports? Walk Do you take an hour to drive to your fitness class? Better go walking, or stop wasting time in absurd traffic jams and use it walking to keep your body and mind healthy. Yes, quick.
At least it is what suggests a research of the University of Sydney published in the British Journal of Sports Medicine, which after analyzing the passage of more than 50,000 walkers, they realized that increasing the pace is associated with better cardiovascular health and lower mortality risk.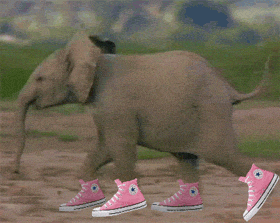 Researchers have found that walking at an average pace (neither too fast nor too slow) is generally associated with a 20% reduction in mortality risk. But if you walk at a brisk pace, you're in luck, because fast walking reduces the risk of mortality to 24%. And it is that fast walking improves cardiovascular health, in addition to keeping us in shape thanks to the elimination of toxins and fats that it generates.
It is clear that walking is an exercise that everyone should do daily, but what we did not know is that if we increase the pace a bit, the benefits are much greater. But how do we know if we are walking fast enough to help us have a few more years of life?
The editor of the research, Emmanuel Stamatakis, a professor at the Center Charles Perkins of the University of Sydney and the School of Public Health of Australia, clears all our doubts:
"A faster pace is usually five to six kilometers per hour, but it really depends on the fitness levels for the walkers; An alternative indicator is to walk at a pace that makes you feel a little out of breath or generates sweating when it is sustained, " explained Professor Stamatakis.
The research has been a collaboration between the Charles Perkins Center and the Faculty of Medicine and Health of the University of Sydney, the University of Cambridge, the University of Edinburgh, the University of Limerick and the University of Ulster. And it is one of the first investigations that pay attention to the step people usually walk with.
What is clear is that you can practice fast walking as a sport that will be very beneficial for your health and fitness, but if you also increase a little the pace with which you walk in your day to day, you will be giving an extra to your body and to your health. Of course, without stress and without giving up those wonderful quiet walks along the beach that you enjoy so much.
Also, know what LISS cardio is and how you can perform this type of gentle cardio training, closely related to fast walking, and discover these 1-minute exercise routines that work.
Please follow and like us: